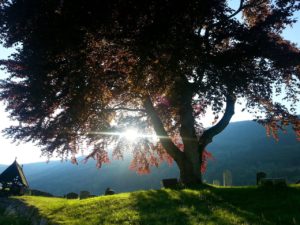 Until recently, I did not fully understand what it meant when I heard an adult refer to themselves as an orphan, but sadly, I do now.  It's impossible to prepare for losing one's parents, and I am forever changed after losing both of mine.
Six years ago, I lost my father, who was my rock and sounding board. He managed to make things happen, passed on his work ethic to me and my five siblings, and taught us respect and the value of humility. Thirteen months ago, I lost my mother, who had become my friend, lunch date, most trustworthy confidant, and soulmate. Now the most fundamental people in my world are gone.
I have lost the people who made me who I am and taught me the most fundamental things: how to use a spoon; how to love and be kind; and the difference between right and wrong. I lost the two people who loved me in spite of my imperfections and who loved my son beyond words.  I am an orphan at 59. When I look in a mirror, it is a stranger looking back. I am forever, in my very soul, changed!
Care Dimensions and Writing from the Heart of Grief
In their final days, both my mom and dad received hospice care from Care Dimensions at home and then at the Kaplan Family Hospice House. As I paced the halls of the Kaplan House, anticipating my father's passing, I found all sorts of grief support information.  After my mother died at the Kaplan House, I knew I needed more help. I committed to two support groups.  I later enrolled in the workshop series, "Writing from the Heart of Grief, Part One," followed by Part Two.  It was a daunting commitment, but I knew this group was a fit for me.  The facilitator was experienced and interesting.  I wasn't sure what to expect, but I needed to challenge myself if I was going to move forward.
In Part One, I was with a group of people who shared this unwelcomed commonality of losing someone close to them. It was difficult and intensely experiential, and I wasn't comfortable sharing my grief at first.  After meeting a few times, I felt gently held and unjudged. We were all moving at different speeds, but there were no expectations. The group gave me the gift of honesty — the deepest, sincerest candor and understanding I had yet to feel.  The rawness of it all was the magic.  As the group was coming to an end, I saw a different shade of light.  The dark and grey cloudiness was ever so slightly changing.  I walked away with needing and wanting more.
When Part Two began, I had regressed somewhat, but drew on my newly developed skills to stay afloat.  It didn't feel as daunting as Part One, and I was looking forward to the catharsis I had felt toward the end of the first series. This time, I was all-in. I wasn't afraid of working hard and extracting the feelings so deep inside my very core.
Learning to Live with Grief
I learned that time doesn't heal. It's a new you — the you who is now used to living with the pain and scars, and learning to walk through life while holding the memories and the pain in a new way.  This is who I am now.  I have all but forgotten who I was before my losses, but I am taking with me people who share the common thread of loss and grief and all I have learned from them. I also have the skills and teachings from the dedicated staff at Care Dimensions, who embraced and cared for my parents, my entire family, and especially me, as I was my father and mother's primary caregiver.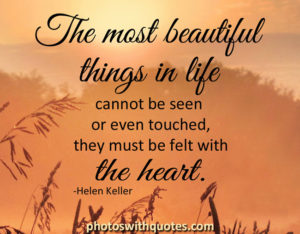 Helen Keller said, "The best and most beautiful things in the world cannot be seen or even touched – they must be felt with the heart." That is what "Writing from the Heart of Grief" is in a nutshell — writing from the most thought-provoking place we hardly ever allow ourselves to go, our heart!
The writing workshops have given me confidence to share my experiences. After completing Part One, I started writing a personal blog entitled, "A Joint Venture." I also created a Facebook support group, A Joint Venture – Living With Rheumatoid Arthritis.  Last May, I wrote an article honoring my mother on Mother's Day for the  Care Dimensions blog. The writing workshop instilled the courage I needed to journey through the pain and loss as life goes on without my parents. I learned to carry my loved ones with me differently – not without pain, but with a new understanding of who I am without them.
Care Dimensions will offer "Writing From the Heart of Grief ", 10 a.m. – 12 p.m., on six Mondays, starting on November 5. Workshops will be held at the Bertolon Center for Grief and Healing, 78 Liberty Street, Danvers, MA. Contact Kerianne O'Keefe, 978-774-5100.