As a special needs preschool teacher's assistant at the Riverside School in Danvers, MA, I work each day with a myriad of children, all with different abilities and personalities. All of them make me smile. I am drawn to helping children learn and experience joy in their everyday lives, so volunteering with Camp Stepping Stones was a natural fit for me.
Camp Stepping Stones is intended for children and families who have experienced the loss of someone close to them. Many of the 60-plus children who attend camp have lost a parent, grandparent or sibling. They come from all over eastern Massachusetts and their loved ones' deaths may have been expected or sudden. Contrary to what you might think, Camp Stepping Stones is not a sad place. It is uplifting and positive.
A supportive, fun camp for grieving children
If you've never experienced Camp Stepping Stones, allow me to give you an overview of the day. Camp starts bright and early with volunteers setting up activities on the beautiful campus of the Glen Urquhart School in Beverly. Typically about 60 volunteers, along with Care Dimensions staff, are on-hand throughout the day to work with campers and adults. After a welcoming activity, children are grouped by age while the adults attend workshops on raising grieving children and taking care of themselves. Children spend the day doing arts and crafts projects such as making memory boxes and stepping stones or decorating a puzzle piece. They also attend music therapy, pet therapy, yoga and other outdoor activities (such as aerial jumping, pony rides, and petting baby animals) – all designed to keep camp fun and supportive. Families come together to share lunch and ice cream, and the closing ceremony at the end of the day reminds everyone that we are not alone in our grief and that there are ways to honor and remember those we have lost.
I've always been struck by the love and encouragement provided to the children and adults at Camp. Seeing children interact and care for one another through their grief is powerful. The art projects help children express their losses in creative ways and they realize that they are surrounded by others who have had a similar experience.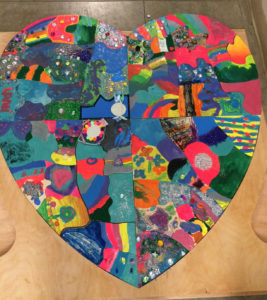 My favorite activity at Camp is the giant heart puzzle. It never fails to bring a tear to my eye. Each person attending Camp gets to decorate a piece of the heart puzzle, many writing the name of their loved one or favorite quote. Rainbows, gems and hearts are also put into this puzzle. After all the pieces have been decorated, they are reassembled for the closing ceremony. The puzzle is used to remind everyone that even when things feel broken, as in the separate pieces of the puzzle, they can come together to be made whole again.
Each year I feel blessed to see families come together through tears and laughter at Camp Stepping Stones. I am grateful that I get to be a part of such a healing and positive program.
A few slots remain for this year's Camp Stepping Stones, which will be held on July 14. For more information, email Camp@CareDimensions.org; register at https://www.caredimensions.org/grief-support/childrens/camp-stepping-stones-registration.cfm.