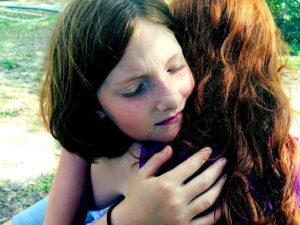 When someone you love dies, it's not uncommon for others to search for the right words to console you. Though meant in a good way, many comments such as "they are in a better place now," or "everything will be okay" are often more hurtful than helpful. Rather than provide comfort, these types of statements can invalidate the painful experience of grievers.
Family members grieving the death of a young parent or child often feel alone in their experience. Not only are they missing their loved one, but they feel inherently different from their community. Grievers remind people of their worst fear: losing the ones they love too soon. So while a community desperately aims to support a grieving family, there is often a sense of reluctance, a fear of getting too close to the unimaginable anguish of death. Thus, we tend to fill the painful silence of grief with unnecessary words.
Brené Brown, an American scholar, researcher, and storyteller said, "The two most powerful words when we're in struggle are 'me too.'" Now, the tricky part about this statement is that people who are grieving are having an incredibly unique experience; they have lost not only the person they loved, but also the irreplaceable relationship they had with that person. So to say to someone, "I know what you are feeling," simply isn't true because they haven't experienced that specific relationship. However, when people who are grieving meet others who are also grieving, there is an unspoken message of empathy and understanding. The key word here is unspoken. Because grievers know there are no words that can fix grief. But, through a quick glance, a shared tear, or an irrepressible chuckle, grievers can send a message to each other communicating, "I am grieving too. I don't know what it's like to lose your loved one, but I know what it's like to lose a loved one. And I am here to grieve with you."
Grief support is becoming more commonplace in our society today. For many, engaging in individual counseling or a peer support group provides great comfort.  Others prefer something different. That's why in addition to grief counseling and groups, Care Dimensions offers events for teens and families to provide a space to process their grief in a fun, engaging, and communal way. Teens can meet other peers who also unwillingly joined the club of grievers. They can have the normalizing experience of hanging out and doing an activity while remembering their loved one in the company of others like them.
Our Cooking Together. Healing Together. family night on November 3 will offer a space for families to strengthen the connections they have with each other and also build new connections with other families who've had a similar experience. It's a perfect opportunity for those who are not able to commit to more formal grief services, or for those looking for an additional layer of support.
Event details:
Cooking Together. Healing Together.
An evening in the kitchen for children and their families grieving the loss of a loved one.
Come join us for a night of comfort, cooking, and new connections as we work together to create a delicious soup and enjoy a meal in the company of new friends. Bring a copy of your loved one's favorite recipe or a family recipe to be added to a communal cookbook.
Thursday, November 3, 6:00 – 8:00 p.m.
Create-A-Cook
53 Winchester St.
Newton Highlands, MA
For more information or to register, contact Cammy Adler, CCLS, LCSW at 781-373-6570; CAdler@CareDimensions.org.