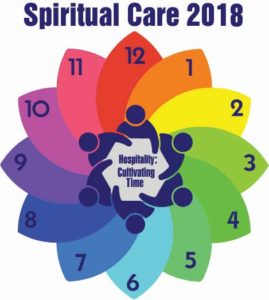 Note: Oct. 21-27 is Spiritual Care Week, also known as Pastoral Care Week. Care Dimensions recognizes the spiritual caregivers in our midst and the ministry they provide.
"Who am I? Why am I here? What's the value of my life? What constitutes a life worth living?" Some life events prompt us to take a step back from our day-to-day existence and ask these questions.
A diagnosis of a serious illness, a job layoff, loss of a relationship or the death of someone we care about can cause us to look for something to help us cope and find meaning in life. That's when we draw upon our spiritual foundation. And if we don't feel we have a spiritual foundation or spiritual resources available to us, we may feel there's something missing in our lives and wonder how to find it.
As a hospice chaplain with Care Dimensions, I work with patients who have been diagnosed as having six months or less to live. At the root of everything that chaplains do is helping people to explore their own spirituality. Mostly we listen intently, ask questions and try to help people find their own best answer.  We counsel patients of all faiths and those who don't follow a formal religious faith. Many people cannot articulate their spiritual resources; others know exactly what feeds their spirits and how to engage and feed their own spirituality.
Discovering spirituality
Many times spirituality is discovered and developed within particular religious practices and traditions. Yet for others, traditions and rituals simply do not seem valuable or meaningful, and they find spirituality in other ways.
One of the first steps to nurturing spirituality is allowing ourselves to ask questions and have patience in exploring our questions, rather than grasping immediately for answers. That's how we open ourselves to deeper and wider truths and experiences.
Here are a few ideas that we talk about with hospice patients and may help you develop your own spirituality:
Use encounters with the natural world to observe and relate to the world in its most grand and minute forms. Gaze across a valley from a hilltop, examine the intricacies of a butterfly's wing, listen to the tide enfold the rocks at the shore's edge. They all help us feel connected to creation. Find the extraordinary in the ordinary.
Read the thoughts and ideas of wise people from a variety of traditions – poets, novelists, songwriters. They help us find words to express what we feel or wonder about.
Become comfortable with quiet and silence, be aware of your breathing or focus on a candle flame. Give yourself the opportunity to get to know your whole self–body, mind and spirit.
Make use of practices that integrate the body, mind and spirit, such as yoga, Tai Chi and meditation.
The challenging world in which we live heightens the value of spirituality, giving us a context for understanding our experience. When we ask ourselves, "Where have I come from and where am I going?" we may be surprised that the answers can be discovered whether or not we consider ourselves to be experts. And, we may find ourselves feeling more fulfilled and connected within the world.
If you or a loved one is dealing with a serious illness, learn how Care Dimensions can help you discover options for a plan of care.