February is American Heart Month, a time to take preventive measures to care for your cardiovascular system and learn more about living with cardiac disease.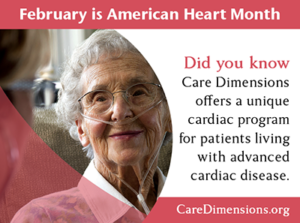 According to the U.S. Centers for Disease Control and Prevention, as many as 5.8 million people in the U.S. suffer from heart failure and one-fifth of them will die within one year of diagnosis. While these statistics can be daunting, there are ways to improve quality of life and make each day more manageable for those living with advanced cardiac disease.
Take 'Sofie' for example, an 89-year-old woman living at home, diagnosed with congestive heart failure and aortic stenosis. Over six months she experienced more chest pain and breathing distress, had difficulty walking, and became fatigued more easily. She went to the emergency room three times for shortness of breath, chest pain, and anxiety because she and her family didn't know how to manage her symptoms at home.
Cardiac program offers customized care
For Sofie and patients like her, Care Dimensions has developed a specialized cardiac program that provides a customized care plan to help patients and caregivers manage the symptoms of advanced heart disease and other cardiac conditions at home while minimizing the re-occurrence of medical crises that typically require emergency room visits or hospitalization.  The benefits of our cardiac program include:
Daily assessment visits or phone calls
Access to telehealth monitoring equipment
A cardiac care team composed of a nurse, social worker, hospice aide, and chaplain
Nursing support available 24/7
Access to the Kaplan Family Hospice House for acute chest pain and shortness of breath, thereby avoiding ER visits and hospitalizations
Education and resources, including a flowchart to help patients better manage symptoms at home
Our cardiac program encourages collaboration between the hospice clinical team and the patient's primary care physician and cardiologist to develop an optimal plan of care. We also include complementary therapies such as massage, pet therapy, Reiki, and music therapy to reduce stress, aid in relaxation, and promote a better sense of well-being.
Who is eligible? Typically people with advanced heart disease who have any two of the following symptoms are eligible for the cardiac program through Care Dimensions:
Recurrent heart failure causing frequent hospitalizations and ER visits
Irregular heart rhythms resistant to treatment
Increased shortness of breath and chest pain
A history of unexplained fainting
Stroke
After Sofie and her family met with her physician, they enlisted the support of Care Dimensions. The interdisciplinary hospice team from Care Dimensions worked with Sofie and her family to determine if medical equipment such as a hospital bed, oxygen, and nebulizer were needed. They monitored Sofie's condition daily to make medication adjustments and stay on top of her symptoms. Sofie's family reported a feeling of relief once she entered the cardiac program due to the ongoing support and monitoring from the team. In addition, Sofie noticed an improvement in her energy level and a reduction in symptoms associated with her disease.
When advanced illness such as cardiac disease overwhelms, it requires an array of health care services coordinated by skilled, confident caregivers. If you would like to learn how we can help you or a loved one live with advanced cardiac disease, call 888-283-1722 or email info@CareDimensions.org.  For more information visit our cardiac program page.