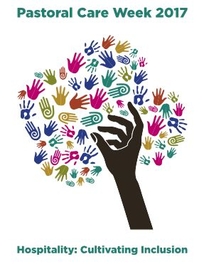 Our patients are asked by many clinicians about their physical well-being during the events leading up to their hospice admission, but it is the chaplain who asks, "How is your spirit?"
Our spiritual self is the part of each individual that is unique, the innermost part of each of us that searches for meaning. As life draws to a close and grief is woven into the fabric of our days, that search for meaning becomes increasingly urgent. Hence, dying and grieving are every bit as much spiritual events as they are medical events.
People are created to love and to help each other. The chaplain's question, "How is your spirit?" is an invitation to spiritual companionship with our patients as they search their lives for meaning.
Care Dimensions serves a community that is rich in cultures and religious traditions. Many of our patients' cultural identities are deeply intertwined with their religious expression. Others describe themselves as "spiritual, but not religious."  Some would not describe themselves as spiritual at all. Still others have been wounded by their religious upbringing and feel rejected, not knowing where to look to be welcome, accepted and included.
At Care Dimensions, striving for and cultivating inclusion in spiritual care for hospice patients is vital. Our 17 interfaith chaplains serve people of all faiths and people of no faith. We reflect some of the diversity of the patients and families that we serve. We have Roman Catholic, Protestant, Jewish, Muslim and Buddhist chaplains who speak Hebrew, Korean, Japanese, French, Creole, Arabic, Spanish and English. All have masters degrees in their field and many have doctorates.
Every Care Dimensions chaplain is clinically trained for medical chaplaincy. We serve not in accordance with our own religious tradition, but (like the rest of the clinical staff) by team. If a patient has a religious need that their assigned chaplain cannot meet, the chaplain will find the right person to meet that need. Certainly, we are here to help patients with religious concerns, but much more than that, we are here to help our patients and families, of all faiths and of no faith, explore the deeper question, "How is your spirit?"
October 22 – 28, 2017, is Pastoral Care Week, which celebrates those who provide spiritual support to others. A chaplain is one part of a comprehensive team available to each Care Dimensions hospice patient. Learn more at: https://www.caredimensions.org/hospice-care/index.cfm.