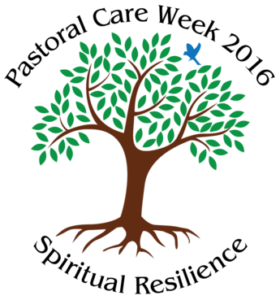 We live in an increasingly non-religious society. Many people abandon organized religion. More people identify as spiritual, not religious. I believe God gave us faith; humanity created religion!
I find this belief in spirituality encouraging. I am part of an interdisciplinary team that cares for the whole person: mind, body, and spirit. Providing spiritual care to people with terminal diagnoses – regardless of their beliefs – can help them and their families through life's greatest challenge.
Chaplains are interfaith in practice. We do not abandon our individual beliefs, but we respect and understand the diverse beliefs of our patients and families. We serve them all equally, if they will permit us.  Care Dimensions provides chaplains from a wide variety of faith traditions. We serve a common purpose: bringing a measure of comfort and peace to all our patients.  It is this "no-judgment" approach that I love best. We respect the resiliency patients find in their personal faith and we support them as they tell their stories of how their faith has helped them endure life's challenges.  Our patients cannot be cured, but they can be healed. The entire care team helps them heal their souls, even as their bodies are dying.
There is a role for a chaplain with patients who have no faith. They can be served by a friendly, non-judgmental, compassionate visitor who is sincerely concerned with their emotional welfare.  Some of my best patients were Atheists!  Most Atheists were once people of faith, but something happened to them or to a loved one for which they feel God did not answer their prayers. Possibly they were told that it was "God's will" for their friend or family member to die. I do not serve a God who causes such grief and anguish. People may abandon their religion when they feel their religion cannot provide them with the consolation they need. They are surprised when I agree with them! I have connected with them through honest dialog about the meaning of life itself and their lives in particular.  They want to talk with us and welcome our visits. We will not and cannot change them, but we can change how they view the reality of their deaths.
We strive to validate our patients' feelings, relate to their struggles, and show them that we, too, are human. We question the existence of God and wonder why God cannot prevent bad things from happening to good people. Working on a hospice care team is about love for all people. It is a privilege to accompany them on this final part of their life's journey. We share this road of life that ends in death. It is our common experience and common destination that can unite us.
What about the afterlife? We honor all perspectives and traditions without judgment. We listen, we reflect, and we try to help our patients understand the afterlife. Many patients share their near-death experiences, their dreams where deceased loved ones speak to them, and their paranormal experiences of seeing and talking with their dead relatives. While there may be clinical reasons why this happens to them, I believe this is evidence that this life is not all there is! We try to keep an open mind, affirming that their experiences can bring hope, comfort, and assurance. Patients testify to the strength of their faith as reality, not a fairy tale. Their faith and experiences have provided resilience. One patient said she was not afraid of death: her faith gave her the assurance that death was a part of life, a transition from one reality to another. They know that their body will die. They believe their soul or spirit cannot die. For them, the soul is energy and as any physicist will say: you cannot destroy energy.
I love that we focus on celebrating life! Whenever we guide a patient through a review of their lives, we all grow closer to each other. Our work not only prepares our patients for their deaths, but it also prepares us for our own death. I cherish every moment of my life.  Working with the dying and grieving has helped deepen my love for family, friends, and colleagues. I learn from my teammates every day about what it means to live in every moment. For the honor of working with you and serving our patients, I will always be grateful! I hope you feel the same way!
Peace & Many Blessings, CP Bob Hagopian
October 16 – 22, 2016, is Pastoral Care Week, which celebrates those who provide spiritual support to others. A chaplain is one part of a comprehensive team available to each Care Dimensions hospice patient. Learn more at: https://www.caredimensions.org/hospice-care/index.cfm.