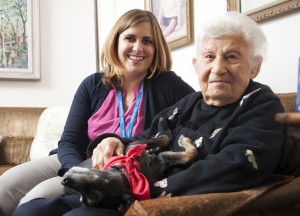 Note: March is National Social Work Month. Care Dimensions celebrates the tremendous role of our hospice social workers.

I always knew I wanted to be in a helping profession, as I love working, learning, and talking to people. During college, I found that social work was what I wanted to do. After working with children, teens, and victims of domestic violence, I found that these were great learning opportunities, but not a perfect fit for my personality. I began working with the geriatric population in various capacities and five years ago made my way to working as a hospice social worker, where I truly have found my calling.
As a hospice social worker, I meet patients and their families at a very vulnerable and difficult time in their lives. I assess the best way I can help them through the end-of-life process, and then connect them to resources and knowledge that they need immediately.
When I am assigned a patient, the most important thing is to assess what's going on. I talk to the patient and their family/support system about their goals and plans for attaining them. We work together on a plan of decline for the patient, which involves a lot of hard conversations, including:
Whether the patient wants to be resuscitated, hospitalized, or have a tube inserted to help breathing
Who they want to be their health care proxy
What to expect at end of life
Where they want to die and how to make that happen
Funeral planning
It is important the patient and family are able to discuss these things together. As a social worker, I am able to help make those important conversations happen and keep everyone informed. Ideally they all will be on board with the plan that the patient wishes.
Having a family member on hospice is a stressful time. Not only is someone you love dying, but there's so much business to attend to, including:
Arranging and paying for private care, or trying to coordinate family/friends who want to help
Managing work/home with caregiving
Taking over the patient's bills and managing the finances
Transporting the patient to medical appointments
Providing personal care
Keeping the patient's family and friends updated
Making difficult medical decisions
Nobody understands how hard it is to be a caregiver for someone you love dearly until you do it. It is can be very stressful, overwhelming, and a thankless job. Often caregivers give all their energy to those they are caring for and don't take time to care for themselves, which leads to caregiver burnout. I often meet with caregivers to discuss how they are coping and what they are doing to take care of themselves. I encourage caregivers to get out of the house, see friends, hire help so that they can sleep, or do something they love for themselves. Often times is it a small thing like going to the grocery store by yourself, so you can get out of the house and feel "normal" for a brief period. Self-care often falls to the bottom of the to-do list when you are dealing with someone you love who is sick. Providing support for the caregiver is a big part of my job.
At Care Dimensions, we're fortunate to have an abundance of volunteers to help our patients and their families. By offering companionship to the patient, volunteers give the caregiver a chance to get out for an hour or two. They provide an invaluable service by allowing caregivers time away or taking something they have to do off their plate. We also have professionals who provide complementary therapies – including pet and music therapy, and massage – wherever our patients live. It is a huge benefit for the patients, as they often cannot leave the house or long-term care facility to receive such treatments.
Forging solutions out of challenges
Many times my job as a hospice social worker is finding resources for patients and their families. Sometimes this is a simple task and other times it can be a challenge. Recently, I was seeing a male patient in his late 60s. He had been caring for his mother who was in her 90s when he became ill. The patient's condition worsened so much that he needed to be placed in a nursing home. His mother wanted to visit her son but she was wheelchair bound, unable to drive, had limited financial resources, and nobody in her family had a car that could transport her. After several phone calls, I spoke with her town's council on aging, which provided her free van transportation as often as she needed to be able to see her son.
Other times, my patients or families just need someone to listen to their story. A simple gesture or suggestion can be helpful. I recently was working with an elderly woman who is mostly bed-bound. She believed that she no longer had a purpose in life or could provide any help to society. We talked and decided that she would write letters to her family to let them know how much they meant to her. I was able to bring her some beautiful cards so that when she was feeling well enough, she could write a note to her family. This simple solution gave her something to look forward to and some meaning to her days.
Working in hospice is an honor and a privilege. I am humbled to be able to be a part of people's lives at such a unique and unpredictable time. Death in our society often is treated as such a scary thing; being able to help patients, their families, and their caregivers navigate through the end-of-life process so that it is less scary, hard, or alone is incredibly meaningful and fulfilling.
If you're a social worker interested in hospice care, check out our Careers page.
Click the Keep Me Informed Button to sign up for our Career Updates e-newsletter.

If you have a family member or friend who may benefit from hospice, make a referral to Care Dimensions.