As a hospice chaplain, I hear the most amazing life stories that transport us into a vivid history. One never knows where these visits will carry us.
I've listened as World War II veterans recall in detail the sights, sounds, and smells of the embattled beaches in Normandy. One man told the story of how he met his wife 60 years ago. Other patients have spoken about long careers fulfilled – careers that helped raise a family, buy a house, and serve a community.
All of our hospice patients bring their stories, which inform, teach and inspire. I'd like to share a couple of them with you.
Saints among us
"Edward" is the son of "Sally", who came onto our hospice service in the advanced stages of Alzheimer's disease. Filled with gratitude and grief, Edward spoke of his mother. "She took me in when I needed it." In fact, he said, his mother cared for 118 children through the foster care system.  "She adopted five of us, including me."
I listened, taking the story in, holding it in my heart. Edward explained that Sally was a former nun who decided to leave her religious order to become a teacher and foster mother.  "I owe her everything," he said.
While his mother no longer had language, she communicated her love for Edward through her facial expressions. During our visits, her affect always brightened when I mentioned her son's name. She raised her head and looked at me with a twinkle in her eye. When Sally later passed away, Edward reflected, "I have no doubt that she is in heaven."
Keeping vigil for a brother on hospice

"It is a blessing," said one of the Catholic brothers as his friend, "Brother Thomas", breathed his last breath.
Brother Thomas was well loved by the members of his Catholic order. A long-time Catholic high school teacher, he had served all over the world. Four fellow brothers arrived at the nursing home upon hearing of Thomas' decline.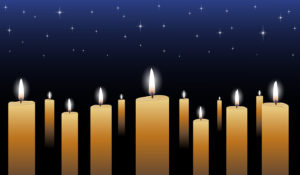 Their presence was that of angels, their depth and understanding of life and death was profound. I wondered, "Did they perceive how their bodies filled the room with warmth and love?"  I could not help but feel joy despite this time of passing and loss. Effortlessly, they were giving Thomas such a gift, as they gathered by his bedside. I am now convinced that sitting in vigil is a movement of God.
The four men sat around Brother Thomas' bed telling stories, remembering, admiring, and celebrating. Alzheimer's disease claimed this man too soon. The life he had led shone forth in the presence of his friends. With tears, but with much hope, they calmly watched him pass from this world, the final breath taken.
The words and narratives shared by patients and their family members form a life. These memories become a fabric woven in deep human threads. It is through the stories we share that we hold the sacredness of life.
If you or a loved one has an advanced illness, Care Dimensions can help you figure out the next steps. Go to: https://www.caredimensions.org/where-do-i-start/ and let us take care of your family like you're part of ours.
Are you interested in becoming a hospice volunteer? Our volunteers help patients and their families in many ways, and those who have taken specialty training conduct bedside vigils. Learn more: https://www.caredimensions.org/volunteers/support-training-and-education.cfm.