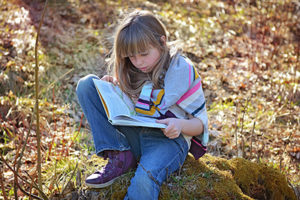 Death is not an easy topic to talk about. It can make us feel scared and uneasy. Talking about it with children can be even more difficult. Using books can be a helpful way for parents, teachers, or other caregivers to guide conversations with young children. The following books have been reviewed and recommended by child life specialists at Care Dimensions.
Understanding the concept of death:
"Life is Like the Wind" by Shona Innes (Preschool-School age)

Innes talks about the difference between being alive and dead by comparison of the wind. Using child-friendly images of animals, Innes explains different beliefs people have about what happens after death and identifies ways to memorialize the person who has died.

"The Dead Bird" by Margaret Wise Brown (Preschool-School age)

Brown uses colorful images and simple language to tell the story about children who discover a dead bird while playing. The children decide to bury the bird and have a funeral for it. This book talks about what happens to a body when it dies using simple, child-friendly language.

"Lifetimes" by Bryan Mellonie and Robert Ingpen (School age)

Mellonie and Ingpen use repetition of the lifecycle of plants, animals, and people to explain that all living things have a beginning, middle, and end. Large illustrations show different beings throughout the lifecycle. The book discusses the scientific meaning of dying.
Saying goodbye:
"The Goodbye Book" by Todd Parr (Preschool)

Parr uses colorful pictures and simple wording to talk about the different feelings a fish has when he has to say goodbye to his fish friend. Parr touches on different grief reactions in a comforting way.

"The Fall of Freddie the Leaf" by Leo Buscaglia (School age)

Buscaglia uses the different seasons to represent different stages of life. As they prepare to say goodbye to each other, Daniel and his wise friend, Freddie, discuss many questions that arise when someone is facing the end of life.

"When Someone Has a Serious Illness" by Marge Heegard (School age)

This is a workbook that helps children put their feelings down on paper when they have someone in their family who seriously ill. Heegard talks about different kinds of illnesses and their causes. This book can help adults gain more knowledge of their child's understanding.
Coping with grief and loss: 
"The Way I Feel" by Janan Cain (Preschool)

This is a simple and colorful book that identifies different feelings. This book can be helpful to use with your preschooler after a loss to help them put a name to their feelings.

"Tear Soup" by Chuck DeKlyen and Pat Schwiebert (School age)

An old woman experiences a heartbreaking loss and explores her own grieving process. This book uses making soup as a metaphor for grieving and reinforces the idea that each person has a unique way of grieving.

"When Someone Very Special Dies" by Marge Heegard (School age)

This is a workbook that helps children put their feelings down on paper. It addresses the concepts of: change, death, funeral arrangements, feelings, and coping skills with an activity on each page.
Other Favorites:
Feelings/Emotions

"Tough Boris" by Mem Fox (Preschool)
"My Many Colored Days" by Dr. Seuss (School age)

Traumatic/Violent Deaths

"A Terrible Thing Happened" by Margaret M. Holmes (Preschool-School age)
"Brave Bart" by Caroline H. Shepard (School age)

Staying Connected

"The Invisible String" by Patrick Karst (Preschool-School age)
"Where Ever You Are, My Love Will Find You" by Nancy Tillman (Preschool-School age)

A Parent's Serious Illness/Poor Prognosis

"The Cancer That Wouldn't Go Away" by Hadassa Field (School age)

Death of a Friend

"Chester Raccoon and the Acorn Full of Memories" by Audrey Penn
"If Nathan Were Here" by Mary Bahr

Pet Loss

"The Tenth Good Thing About Barney" by Judith Viorst
Tweens & Teens:
"My Parent Has Cancer and It Really Sucks" by Maya Silver & Marc Silver
"Fire in My Heart, Ice in My Veins" by Enid Samuel-Traisman, MSW
In addition to reading books, some children, teens, and adults find that writing and sharing their own story can be therapeutic.  Writing can take the form of journaling, blogging, poetry or even music, and some find that putting their thoughts and feelings down on paper can be easier than verbalizing them.  Dan Widrich is one example of someone who found the writing process to be healing.  After Widrich's father and great-grandmother died, he channeled his grief reactions into a self-published children's book, titled "Love Overcomes Grief," which shares his story and offers several different activity ideas for other children.
March is Child Life Month. Learn about the Children's Program at Care Dimensions, including Camp Stepping Stones, a one-day family retreat for children and adults who have experienced the death of someone close to them. For more information, please contact childlife@caredimensions.org; 978-774-5100.