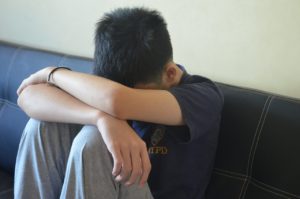 The teen years can be difficult for anyone.  Academic pressure, peer pressure, uncertainty about the future, self-identity and expression issues, and sexuality concerns are all part of teen's everyday life.
When a teen experiences the death of someone close to them, the grief can feel overwhelming, confusing, and very isolating.  Here are five tips to help teens navigate their grief journey:
Respect their need for independence and privacy.  Not all teens are comfortable talking about their feelings.  Pressuring them to talk about their grief before they are ready can make teens become more withdrawn.  Let them know that you are available and let them tell you what they need.  Some teens want to be alone, others want to be surrounded by friends and continue their normal routines, while other teens may seek a healthy mix of both.
Model healthy coping skills for teens. Showing a grieving teen how you, too, are grieving and modeling what you do to take care of yourself lets them know that they are not alone and offers suggestions for self-care.
Provide them with the opportunity for a trusted adult to talk with their teachers.  When teens return to school after experiencing a loss, often times they feel different and out of place.  Some teens prefer their friends and classmates to know what has happened, while others prefer to share with only a few of their closest peers.  Talk with your teen about what will help make the transition back to school easier.  If they feel comfortable, communicate with their teachers about the death they experienced, which may alleviate some stress of falling behind on academics.
Find expressive outlets. If your teen isn't talking, it doesn't mean they are not grieving or coping.  Some teens prefer to keep their thoughts private.  Encourage them to find other expressive outlets for their emotions, such as sports, music, art, or journaling.
Form new connections. Seek out grief support for teens in your area.  Many programs offer teen support groups or events for teens who are grieving the death of someone close to them.  These programs can help teens feel less alone in their grief.
*Added tip: if your teen is hesitant about joining a program like this, which many are at first, encourage them to try at least three times.  If the program still doesn't feel like a good fit, allow them to drop out.  Often, once teens form the new connections, they will want to continue going on their own.
The Children's Bereavement Program at Care Dimensions offers several teen events throughout the year, including these upcoming ones:
Rock Climbing, Monday, January 16th: Teens aged 13-18 who have experienced the death of someone close to them are invited to bring a friend and join us from 2 to 4 p.m. at La Vida Rock Gym at Gordon College in Wenham, MA.  Teens will have the opportunity to meet new friends in their community and take on the challenge of soaring to new heights by climbing a rock wall.
Paint Night, Thursday, January 26th:  Teens aged 13-18 who have experienced the death of someone close to them are invited to bring a friend and join us from 6:30 to 8:30 p.m. at Palettes in Natick, MA for a fun and expressive paint night.  Fajita Bar dinner will be served.
Coming in 2017:  "Writing from the Heart of Grief for Teens" –  A new teen writing workshop co-facilitated by Ellen Frankel and Kristen Goodhue.  Details to come.  If your teen is interested in this group, please contact Kristen Goodhue at 978-750-9335; KGoodhue@CareDimensions.org.