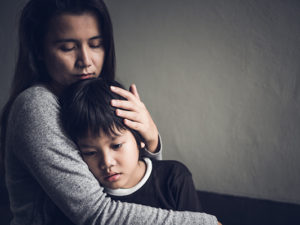 For many, the new year is recognized as a time of exciting change and renewal, but for those who are grieving, it's not always sparkles and glitter. If you are supporting a child who is grieving, it is important to be mindful of the many emotions that can accompany this annual milestone. Here are four tips to help you navigate the new year with grieving children:
Acknowledge who (or what) is missing
Sometimes, it's easier to avoid talking about things that feel painful. For many adults, a well-intentioned act of protection can actually cause more turmoil for their grieving children. Talking about the person who is no longer here and how it has affected the past year is important. It's OK to say "I wish they were here" and acknowledge other sad, mad, or lonely feelings.
Look ahead
While acknowledging the past is important, it is also helpful to look ahead. What things will be hard about the next year? Will there be any "firsts" since the person died? What are some helpful things we can do during those times?
Preparing for the hard stuff is beneficial, but so is talking about the upcoming experiences that will be happy and good. Finding the light in the year ahead can help us continue to move forward without the person we are missing. Children sometimes harbor feelings of guilt when thinking about the positive things in their lives, especially when they know those around them are devastated by loss. Remind the kids in your life that it is OK to have happy thoughts.
Remember that children grow with their grief
Grief is an ever-changing journey, especially for children who re-grieve a death at each developmental milestone.  As children grow, the way they understand the death and what the loss means to them may change. Even if the death happened many years ago, acknowledging it at this time of year can help a child or teen develop awareness and feel validated in their grief.
Talk about ways to stay connected
Maintaining a connection to the person who has died can be comforting to children. For some this might be as simple as saying a nightly prayer, while for others it may entail visiting a cemetery, carrying a memento from the person, talking to a picture of the person, or writing letters/drawing pictures. It is just as important to make connections to other supportive people in the child's life, such as an extended family member, friend, teacher, professional counselor, or anyone else who can offer the child a judgment-free and kind space to process their grief.
Many children find joining a bereavement support group to be a helpful space to make new connections to people who have had similar experiences. Groups are a place where children can learn coping skills, honor and remember the person who died, and forge new friendships.
If you are interested in having your child join a grief group, please call the Care Dimensions Children's Program at 978-750-9335, or email ChildLife@CareDimensions.org. Free support groups in Danvers and Waltham begin in February and advanced registration is required.